Meet the Team - Princes TV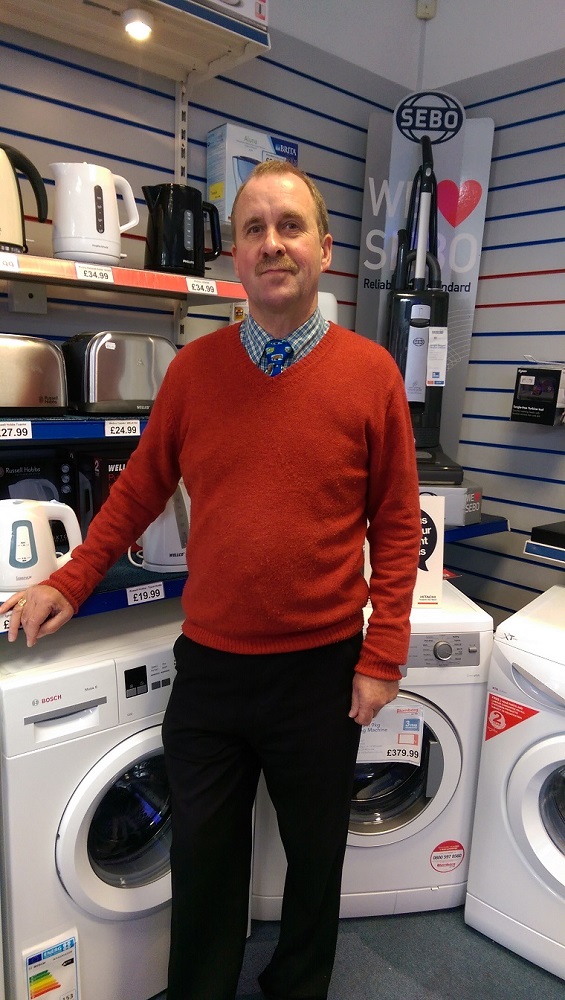 Dennis Prince
The Boss, but to all intents and purposes one of the lads!
Den established the business from a portable cabin on his parents' drive in 1981, and has been the local "TV Man" ever since.
A fixture on the Wem High Street scene for decades, Mondays-Saturdays, Den likes nothing better than greeting familiar faces and chatting about family and friends, whilst helping to resolve their technical issues and requirements, or demonstrating the features of the latest Panasonic or Bosch product.
Den has set the standard for customer care, and is proud to have maintained an excellent reputation for after-sales service, first established by his parents' watchmaking and jewellery service.
Indeed, Den himself is becoming something of an expert on the intricacies of changing watch batteries, the relative merits of Yankee Candles, and the engraving of sports trophies and awards!
He admits, if pressed, to a long-standing loyalty to West Ham United (don't ask), but Tuesday nights at the Montgomery Waters Meadow are his main football passion. Divided loyalties, then, during the FA Cup tie and replay,in January 2018....!!
Pete Ellis
Den's first recruit and right hand man, Pete remains a vital part of the workforce, with an ability to turn his hand to anything!
Pete's technical knowledge of digital reception issues is unsurpassed within the County, and his services are highly sought after by both commercial and domestic clients. Regular customers include property developers, managing agents and housing associations, whilst Pete has also gained a reputation for expertise with community theatres and schools, designing and installing systems to enable live streaming of national events. Foreign reception, requiring the installation of motorised dishes, is another specialist area in which Pete is highly regarded.
Equally at home in the domestic market, Pete can often be seen undertaking mercy missions to long-standing customers out of hours, anxious to ensure that they don't miss out on their favourite soap or televised match!
Similarly, if required, Pete will assist the service and installation team, delivering and connecting TVs and White Goods, or carrying out TV and vacuum cleaner repairs in the workshop. Pete is that rare animal, a "jack of all trades, and master of most"! What's more, for such a clever bloke, his most endearing quality is his modesty and unassuming nature.
A family man, Pete spends much of his spare time transporting his youngest daughter to dance events nationwide, often culminating in a car full of trophies on the return journey! Apparently, Pete has been spotted occasionally in Gobowen Club, enjoying a well-deserved pint!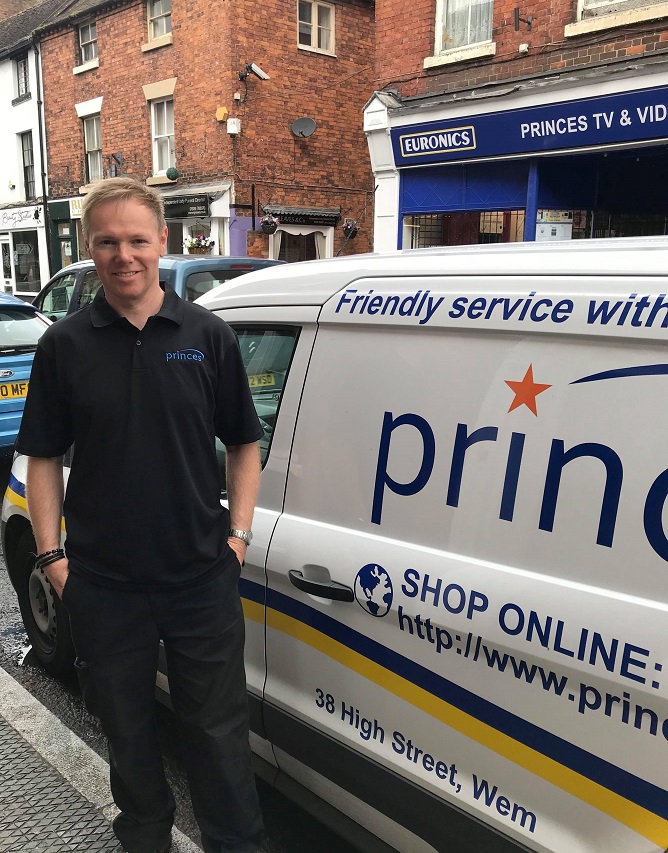 Keith Ashley
Keith is a long-standing member of our team, and has built a loyal fan base throughout our North Shropshire catchment area and beyond, particularly, it would seem, with ladies of a certain age!
Keith's ability to explain technical matters in a down to earth and friendly manner, his neat and tidy approach to installations, and his endless patience with those of us who are not so technical, means his services are in great demand.
Equally at home setting-up a Smart TV and related internet connections, as when installing an integrated fridge freezer, Keith (or K2 as he is known by colleagues) is a key member of our after-sales team, and has helped to establish and maintain our reputation for customer care.
Whixall born and bred, Keith is well-known in local sporting circles, and has an annoying habit of finishing top in the firm's fantasy football league! Strange, really, given his life-long passion for the red side of Manchester!
The proud father of a young and rapidly growing daughter, Keith is getting used to the world of school plays and concerts, sports days and the like, but appears blissfully unaware of the challenges that lie in wait..!!
Steve Griffiths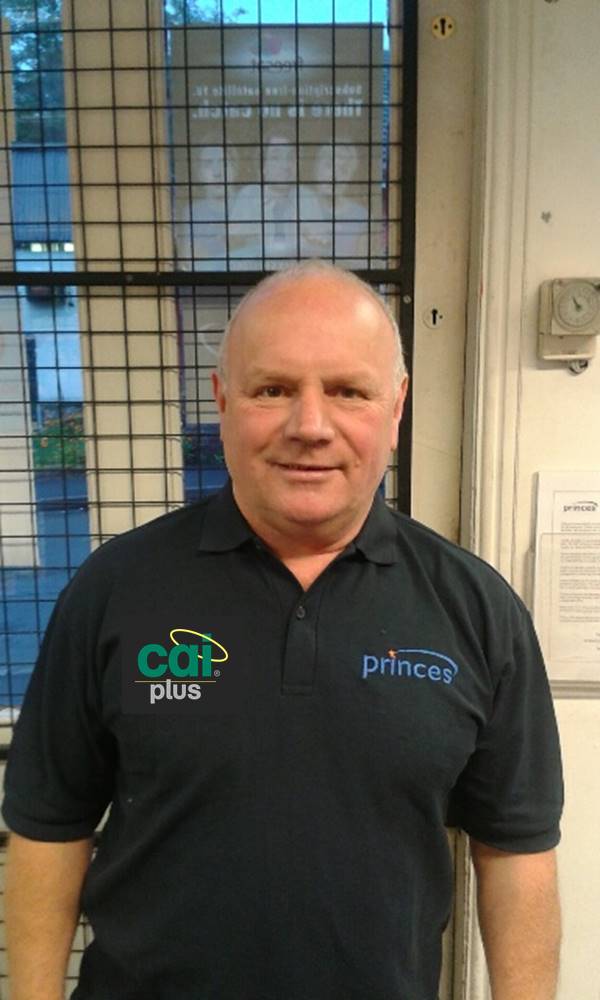 A member of our aerial & satellite team, Steve is experienced in all aspects of digital reception, and is fully trained to work at heights (even though he's "vertically challenged")!
Steve lives in Oswestry, and provides digital solutions for domestic and commercial customers throughout the County, on jobs including full aerial or satellite installations, the provision of additional points or feeds to enable reception in different rooms, problem solving in the case of poor reception or lost channels, the re-securing of aerials or dishes after storm damage, and a multitude of signal-related issues, both large and small.
A guitarist in the excellent Oswestry-based band High 'n Dry (if you've not heard them, do so at your earliest opportunity), Steve thankfully leaves the vocals to other group members, and devotes his own singing talents to the support of the red side of Merseyside, both home and away.
Steve is old enough to remember the glory days at Anfield, in those halcyon times when we gathered round a cathode-ray tube television to watch the FA Cup Final, or stayed up late to catch Kenneth Wolstenholme present Match of the Day!


L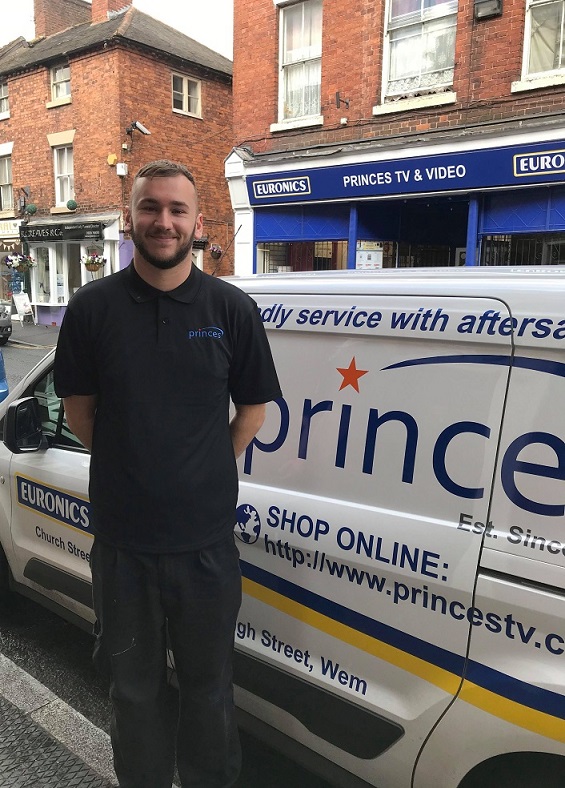 uke Cashin
Luke joined the team as an apprentice in 2013, and successfully completed his NVQ in 2014.
Initially working to Keith's supervision, as part of the delivery and installation team, Luke quickly impressed both colleagues and customers, with his excellent inter-personal skills and mature personality, and has progressed to a point where he can now carry out one-man jobs on his own.
In addition, as a relative youngster, Luke provides a natural instinct for issues surrounding internet connectivity and related matters, so important to the team when installing Smart TVs, Blu-Ray Players and associated items in the modern home.
To his immense frustration, Luke is languishing behind Keith in the firm's fantasy football league, but on balance this is probably beneficial to his career prospects!
Like Keith, Luke declares an allegiance to the red side of Manchester. Unlike Keith, he still gets the opportunity to drown his sorrows in Whitchurch night spots, when the occasion demands (and, let's face it, there have been plenty of those in the last few seasons!). A keen boxing fan, Luke has secured tickets for Anthony Joshua's big fight, but is sitting sufficiently far back not to get caught up in any bloodshed!
D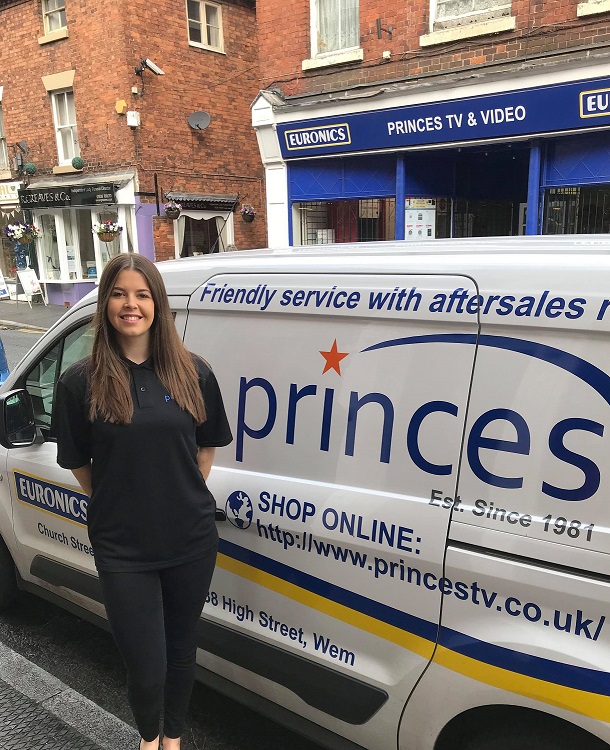 anni Prince
Danni is the latest member of the family to join the firm, and by far the youngest!
Danni helps Mat with finance & admin duties, but the greater part of her working week is spent at Wem, working alongside Den to provide sales assistance on both the electrical and jewellery & giftware sides of the shop. In addition, Danni plays a key role in developing our online presence, and in promoting the firm through social media, in both cases bringing her youthful knowledge and outlook to the fore!
Prior to joining us in January 2016, and having left Adams College, Wem in 2015, Danni worked for a local Hotel & Restaurant, and gained broad experience of a wide range of customer-facing responsibilities.
Outside work, Danni regularly attends her local gym, and has renewed her highly promising football career (now with Malpas Ladies), temporarily put on hold whilst working unsociable hours in the hotel industry!
Danni is a fan of Liverpool FC, but is far too young to remember the days when the Reds were a footballing force!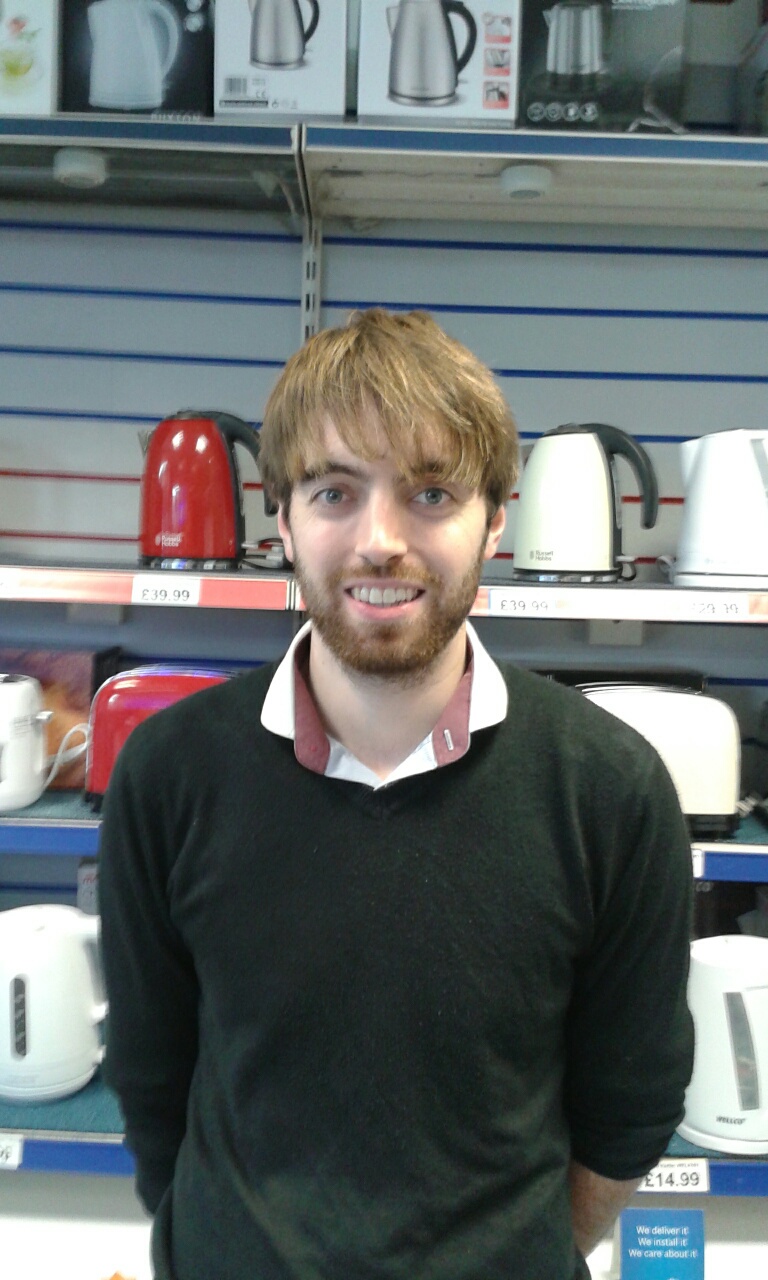 Mathew Francis
Mat joined our sales team at Wem in January 2016 and, yes, the spelling is correct (apparently, the Welsh version only employs one "T")!
Since graduating in Environmental Chemistry (your guess is as good as mine!) from Lancaster University, Mat has worked in the Licensed Trade, and has acquired highly developed "listening skills"!
Mat has a friendly and outgoing personality, ideally suited to a career in independent retail, and his youthful outlook blends nicely with the experience on offer from other members of the team!
After a few years in the Wem store focussing on the retail side of the business, Mat now spends the majority of his working week concerntrating on the finance and admin duties, and is making great strides in his efforts to secure an Accountancy qualification. Mat is also very versatile, and when needed can offer his services to our delivery and installation engineers.
Mat's leisure pursuits centre on a love of the outdoors, and climbing in particular, so we know who to turn to when the aerial & satellite team are hard pressed!
The only blemish on Mat's character is a sneaking admiration for Wrexham FC, and no further comment is necessary, other than a long and hard look at our interviewing techniques!!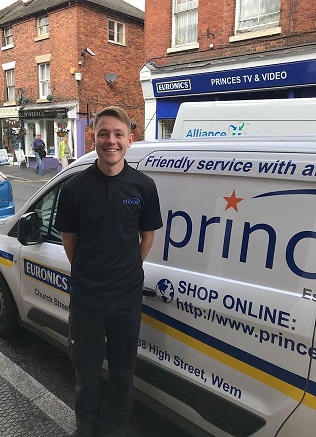 Tom Clive
Tom is our newest member of the Princes team joining in July 2018. Tom has integrated into the Prince family within the last few years as Danni's (I'll say better half) - he must be doing something right!
Tom has previously completed 5 years at Whitchurch Civic Centre working alongside the Town Council as a Caretaker. Tom's duties included preparing for a variety of events and overall responsibility for the maintenence and monitoring of the building. Within his Caretakers role Tom has become very famliar with the general public, a quality which will most definitely prove useful at Princes amongst many others.
Before starting with us Tom completed and passed an introductory course with CAI - The Confederation of Aerial Industries. Despite this being a completely new field of work for Tom, the course gave him great insight into the different taks he carries out. Over the past few years, Tom has gained a mass of knowledge and experience working alongside Pete and Steve. Tom is proving to be a very versatile individual, assisting with service calls, product installation as well as aerial/satellite work and the odd bit of shop work!
Outside of work Tom is a very keen footballer currently playing for local team Prees FC. Tom is also a supporter of Liverpool FC strengthening our scouse work force!


Keep checking our meet the team page for updated information on all of our employees!